About Dee Why Lions Rugby Club
At Dee Why Lions we enjoy our rugby, and we want you to enjoy it too! Whether you are playing, spectating, visiting, officiating or helping out in some other way, we want you to enjoy your time with us.
With emphasis on participation, team spirit, fair play and fun we field teams – and always welcome new players – across all age bands; oldies, seniors, juniors and minis.
Established in 1960, we have developed into a diverse, inclusive and community-centric sports club with members from a variety of backgrounds and cultures. We are justifiably proud of the reputation that we have earned by supporting the development of female players in our younger age groups, and plan to further extend this into our older age groups as we continue to evolve.
If you want to enjoy your participation in rugby, why not come and find us at James Morgan Reserve, Fisher Rd Nth, Cromer? Or contact us here.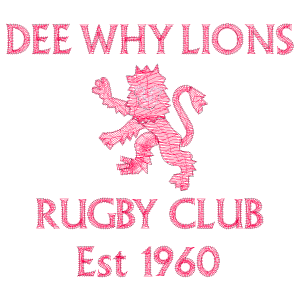 ---
Our History
The Dee Why Rugby Club was initially formed as a Junior Rugby Football Club in 1960, around three years before Warringah Junior Rugby Union was established.
Our club was initially managed by an Executive Committee of L Gosling (President), J Smith (Secretary) and J Mooney (Treasurer), with General Committee support from J Fountain, R Roberts, J Sloan and J Tapp.
This Committee believed that our club needed a strong identity and, in recognition of the British & Irish Lions who had toured Australia and New Zealand the previous year, chose to use red as our primary club colour and to adopt the name Dee Why Lions.
Overcoming numerous adversities that start-up sporting clubs typically faced at the time – particularly financial stress – in its first year our club fielded U10, U12 and U14 teams in the Manly Junior Rugby Union Competition. Growth continued over subsequent years until, by the mid-to-late 60's, the number of participating players had increased to around 320 and the number of teams to 16.
As our club developed, so did our social spirit and through the 70's teams spent numerous weekends camped out at various ranches where the players experienced country life and were able to participate in horse-riding, gold-digging and sheep mustering. Even though numbers dwindles during the 70s due to competition with local Rugby League clubs, in 1979 we sent 35 players from our U10 and U11 teams – accompanied by 42 adults – on an 11 day tour of New Zealand, playing rugby in Christchurch, Greymouth and Dunedin.
During this period many junior rugby clubs, including ours, extended its scope to include senior players and teams, with Warringah establishing its senior club in 1964. A number of our senior players developed into first-grade Warringah "Green Rat" players over the years, including John Montgomery, Steve Colley, Rick Black, Tim Ryan and Paul Schober. Rick Black, Tim Ryan and Paul Schober each played over 100 games for the "Green Rats", and were members of the first rat squad to contest a first-grade Sydney Premiership Grand Final in 1982; falling short to Randwick 21-12 in 1982.
Since then a few of our senior rugby players, including Glenn Murphy, have reached the impressive 200 game milestone playing for Warringah Rugby Club.
In more recent times we have invested in developing and improving the facilities at James Morgan Reserve, our home ground, and will continue to do so.
We were extremely proud to field our first all-girls team, and the first in the Northern Beaches, in 2010 and remain committed to supporting women's rugby in whatever way that we can.
In 2020, the club will be celebrating its 60th anniversary and we are hoping that as many of our past and present members will join us for the festivities. With such an important milestone being acknowledged this year, it provides the club with a great opportunity to reconnect with our former players and their families. If you are a former member of the Dee Why Lions Pride or know anyone who is then please contact the club via our Facebook page or email our president, Stephen Comber, at president@deewhylionsrugby.com.au so we can keep you informed of the proposed anniversary events that we will be holding this coming season.
---
Our Affiliation
---
Our Constitution
Our current constitution, which defines our structure and methods of operating, was adopted by Club Members during our 2014 AGM.